Your Wife Is A Prostitute- Yung6ix And His Dj Blasts Akpororo, Says His Jokes Will Get Him Killed
TX news had earlier reported that Southside rapper, Yung6ix spent a whooping #3.9million naira on drinks at a Lagos club and several people were of the opinion that the rapper should have channeled the money into productive use. Not a few people believe that Yung6ix's music would get a lift from such investment.

Popular comedian, Akpororo is one of those people that holds that opinion and the comedian made a joke out of it during one of his performances. That joke seems to have become an expensive one now that Yung6ix and his ally, DJ Timmy have responded to it. The Deejay especially, made ugly revelations about the comedian's wife and threatened that the comedian could get shot.
See Tweet Below: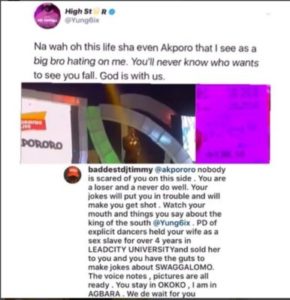 Do you want to stay updated on posts like this? why not bookmark this site or sign up for our newsletter.
Or you can also contact us on IG: @aauthespian
Fb: @AAUThespian
Twitter: @aauthespian
Whatsapp: +2347084771722.